Featured Article: June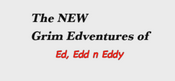 The NEW Grim Edventures of Ed, Edd n Eddy is a fan fiction crossover between The Grim Adventures of Billy & Mandy and Ed, Edd n Eddy. The story centers on the Grim Reaper losing a bet and becoming enslaved to Ed, Edd n Eddy, leading to many hijinks as the Eds continue their pursuit of jawbreakers. It is being written by thebestkindofstupid also known as Edd Shwartz.
---
Featured Media: June
Ed bustin' a cap into his enemies in Ed Theft Auto.