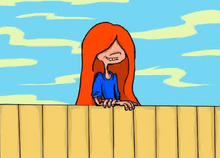 Ezeke is a fan character created by DarkenedSparrow on deviantART.
He is Kevin's 13-year-old cousin and was raised with him in the Mountain Country. He is an androgynous male with long ginger hair that hides his eyes and is often mistaken for a girl because of it. Ezeke's eyes are hidden most of the time, but Rolf, his new and awkward friend, who has taken interest, coins the affectionate nickname for him ''Shy Eyes''.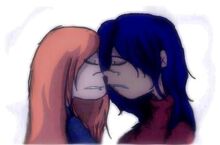 Rolf is the only one to this day who has seen Ezeke's eyes. Ezeke becomes close friends (and later romantically involved) with Rolf. Apparently, they share a kindred spirit in the ability to ''read'' people. They're also both connected with water and the fact that Ezeke bears a strong physical resemblance to the No Gender Nymph, a (made up) entity in Rolf's culture.
Trivia
Ezeke's creator is the twin sister of Misjudgment, owner of Alex.
He is featured in the fan comics ''Bring Me To Ed'', ''IntertwinED'' (the story where he meets Rolf), and ''ArisED''.
In early development, he apparently had black hair and he used to be Ed's love interest.
He bears striking resemblance to Spell, another DarkenedSparrow OC. His early design and story with Ed may explain the origins of Spell.
In ''ArisED'' his Halloween costume consists of dressing up as the No Gender Nymph.
His eyes are blue.
His gender fluid behavior and love story with Rolf has caused much controversy.
Community content is available under
CC-BY-SA
unless otherwise noted.